the poster doesn't have anything to do with the post. i just really like this picture.
My ideas and thoughts have grown this month, and I'm willing to share six of those thoughts to you lovers.
1. American Apparel in Jakarta
Can anybody please tell me on girl in Jakarta who doesn't want AA? N0NE. American Apparel is a clothing line which sells out the most basic clothing there is to women and men. Even though AA is pretty pricey, their items are worth to buy. i have a crush as big as an iceberg to their denim shorts and ALL their pullovers. AA has some wicked advertisement, but its their models i have a crush with! My favourite model from AA would be Alex, because of her face and her Instagram. I have a dream of becoming an AA model one day when they open up a store in Jakarta hahah! ok but seriously, American Apparel in Jakarta is just gold. I hope them AA leaders read this.
2. Personal Project inspired by Alexa Chung/Maria Fernanda
I've been thinking a lot for my Personal Project but I still haven't make up my mind. After reading It by Alexa Chung, I thought about making a book about my experiences and turning them into tips and tricks for the readers. And after a lifetime of admiring Maria Fernanda's posts on RookieMag, I thought about making a photo diary. My dad recommend that I make a photo diary of groups of people and interview them as well. then compile them into a journal. I still can't make up my mind though. Personal Project is pressuring.
3. Joseph Gordon-Levitt
This month my heart has created a bigger spot for Joseph Gordon-Levitt. His face as my Blackberry Messenger and Whats App display picture, also my phone wallpaper. And obviously, I have him as a pin on my pink backpack. I also made a fan fiction on him! Ha! When I have the money to go to the US, I will full fill my goal which is to dance with and kiss Joseph Gordon-Levitt. Please help me achieve both 'list of things to do before I die'.
4. Heartcore
After spending too much time in front of the TV, it is this month where I've been thinking a lot about relationships and such. It's a big deal to think about, yet to experience it. Relationships aren't complicated but sometimes people make it seem complicated. I have a huge heart filled with my loved ones, Joseph Gordon-Levitt, and there's still space for more. I'm still waiting for my heart to be packed with my loved ones, but I'm guessing it'll take a very long time. I have a quote which I think is really, really beautiful because it's the truest quote I've read in a long time: "When you love someones it doesn't have to be heartbreaking. Sometimes you love someones and it's innocent like they're your sibling, or a very dear friend. And you shouldn't have to put up with any shit about that, just because others don't support your relationship. Sometimes when you love someone, you love them for who they are, not who they are to you.".
5. Presidents
Indonesia selects a new president this year, but that's not what I thought about this month. I watched a lot of movie with presidents in it these days, and it couldn't get out of my head. After watching Salt (there were the President of the US and the Russian President), and then I watched Up, I called Mr. Fredicksen, Mr. President, because during Salt everyone was saying Mr. President. Plus, I was scrolling down my tumblr and found this gif.
6. Amazon
It's amazing how you want so many things and all those things are just a click away! There are tons of albums not distributed all the way to Indonesia and seeing them on Amazon makes me want to click 'add to cart' every time!!! But after I add to cart and saw the total price of the things I want, it's very expansive and i decided to back away from the screen and throw my phone onto the computer screen (one of this is a joke). But there are times where my dad would say yes if i wanted something on Amazon and when the item arrives I will shout like crazy and show them off on every social media I can think of. I have a few list (another list ha!) of things I want from Amazon right now:
a) The Wes Anderson Collection
b) Temper Trap Albums: Conditions & The Temper Trap
c) Almost Famous OST album
d) Black Fjallraven Kanken Daypack
Those are the thoughts that has been haunting over the first weeks of January, and it will be continuing to haunt until the end of the month, or forever. Also there has been some very
cool news
on the net:
1
.
Frozen Lighthouse Looks Like a Narnia Building
I don't have to say much because a picture could tell 100000 words. A lighthouse in the coast of Lake Michigan got frozen due to winter's chill. But not only did it freezes, but it created additional details to the lighthouse which makes it really, really pretty and very White Witch-castle-to-be.
2. People's Choice Awards 'After Party' Timberlake Version
Justin Timberlake brought three
People's Choice Awards
babies home, and if we were in his position we would be going to an exclusive A listers after party. But not him! On his way home
he dropped by Taco Bell
and celebrated his achievements with the Taco Bell employees.
3. Beyonce & Rowland Crashes Karaoke Party
Imagine if you're singing Party by Beyonce to liven up your karaoke experience with your friend, and then suddenly
Beyonce and Kelly Rowland started singing
and dancing with you in the room as well. Why yes, that happened to two girls in the US.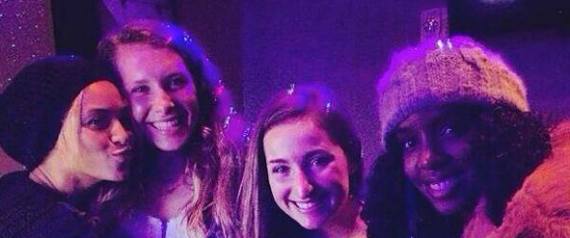 I don't have any more news or thoughts right now. I hope y'all have a good Sunday, or a long weekend (if you're not going to work or school tomorrow).
the one behind the screen,
janis